LOCALS REACT WITH JOY AS MIDDLETON PUB SET TO OPEN ONCE AGAIN
Thursday, 31 August 2023 12:50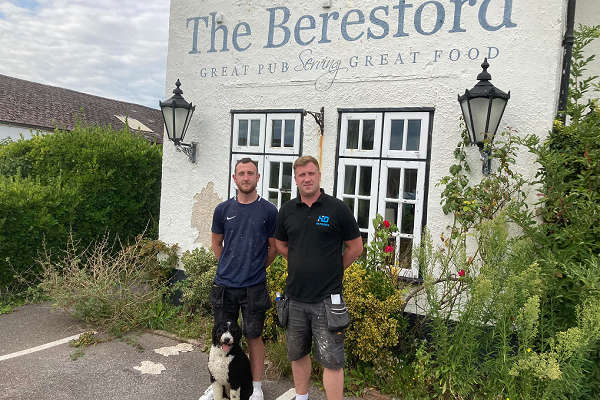 Ben with Harry and Pablo the pub pooch. Picture: CARL ELDRIDGE
Residents of Middleton and Elmer have reacted with great joy after it was announced that the Beresford pub was set to open its doors for business once again.
The local community were hugely disappointed when the hostelry closed just before Christmas but people say they are excited at the prospect of pints soon being pulled again at the Elmer Road pub.
Businessman Harry Dumville and Ben Standen have taken over the venue and are busy preparing it in readiness to open in two weeks.
The brothers, who recently opened the Promenade at the Carlton Hotel in Bognor Regis after it was closed for six months, say they are thrilled to be able to once again serve the local community. They have invested in a new kitchen and say food will be available soon too.
The news comes as figures released by the Campaign for Real Ale (CAMRA) show that pubs in the UK closed at the rate of 30 a week in the first half of this year.
Harry said he had fond memories of a vibrant Beresford and when he and his brother saw that it was closing they made a point of putting together a plan to bring it back to life.
He added: "The Beresford was a fantastic pub and very much the hub of the area and so when we saw that it was closing we both thought that this was something that we simply could not allow to happen.
"Places such as the Beresford are vital to the community and we have found the reaction to be universally supportive. Even as we first viewed the empty pub, locals were asking us if we were going to open it again and the joy and excitement in their faces when we said we were was fantastic."
Ben, who along with his brother recently revived the fortunes of the Ship Inn in Emsworth, added: "We hope to open in two weeks and in the meantime, we are installing a new kitchen so delicious food will be available in about six weeks. We can't wait to meet more locals and look forward to being able to raise a glass with them when we announce an official opening date."